As students in Europe and North America return to school from their winter break, most school children in the Southern Hemisphere start a brand new year at school. Most, but not all. Queensland, Australia, is still recovering from a flood, and is now bracing to withstand one of the biggest storms in the land's history: Cyclone Yasi. Schools are closed this week, people are in shelters with emergency supplies and no electricity, and the damage from both wind and surging surf is predicted to be monstrous.
USA weather reports are hardly better. "East Cost Walloped By Snow", "Winter Storms Paralyze Air Travel", "1

7 inches of snow in

Chicago

"
It is usually in the times of disaster that people's thoughts turn to the important aspect of responsibility. Not who's to blame for the inclement weather, but rather your own personal attitude towards your chores and duties.
If you look at the Learning Style Pyramid, you will observe that Responsibility lies in the Attitude Layer and is a learned element (as opposed to, say, global or linear thinking which are biological elements).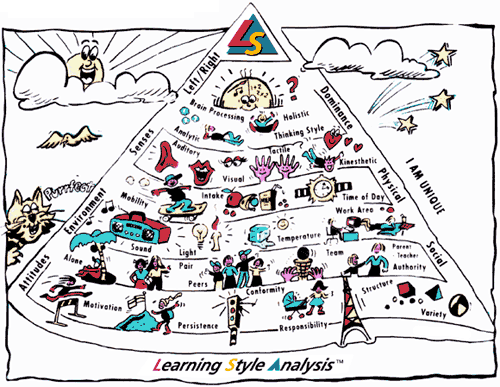 So how do you teach responsibility to children? According to Dr. Kevin Leman, a renowned author of parenting books, you can't achieve it by being too liberal, nor by being too authoritarian. Not with a set of strict rules, rewards or punishments.
You teach responsibility by making children accountable for their actions in a loving, secure environment. If a child fails to put their laundry in the basket, they will have nothing clean to wear. If they forget to do their homework, they themselves have to explain it to the teacher - you as a parent will not rush in to do the homework for them, nor will you write a letter excusing your child's lapse.
Easier said than done? You bet! If a parent's working style means giving the child constant guidance and structure, it'll be difficult to back off, particularly if the child's learning style calls for parental supervision. The good news is you can still provide guidance and supervision while letting the child get on with their work: "Tidy up the left hand side of your room, then come and get me," or "Start with maths before you move onto writing the essay. I see you have ten sums to do. Do the first three, then we'll check them together."
What is your child's learning style? Find out today.